Ideal Ratchet Cable Cutters- Used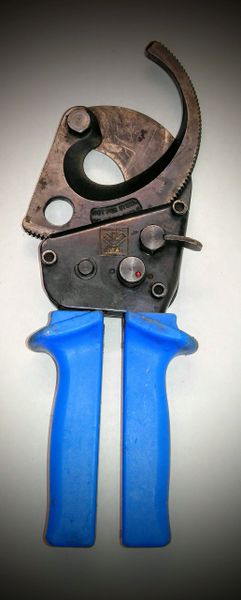 Ideal Ratchet Cable Cutters- Used
Used IDEAL Ratcheting Cable Cutter:
Used Condition. Still Cut like new. View Pictures well for details. One handle has a cut in the handle as seen in photos. The blades have no damage just normal wear and tear still cut like new.
750 KCMIL ratcheting cable cutter that is designed to cut 750 KCMIL (MCM) and smaller hard-drawn copper and aluminum cables. The hardened steel blades ensure consistent cuts and long-term durability. The rounded blade design minimizes the cable distortion during cutting. With the locking release mechanism, it makes backing out a blade much easier plus the locking mechanism keeps the handles closed for easy storage. In 1916, J. Walter Becker started the Ideal Commutator Dresser Company of Chicago from his mother's kitchen. He manufactured commutator dresser stones with the belief that every product should be worth more than the price paid for it. Service, he said, was part of the product. That idea has been the core IDEAL business principle for over 90 years. Today, the many loyal distributors and customers that make IDEAL successful are a testament to Becker's original philosophy.