Fluke Networks Pro 3000 Probe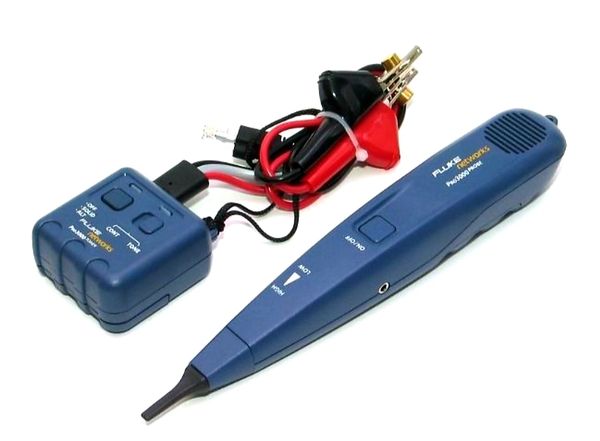 Fluke Networks Pro 3000 Probe
Fluke Networks PRO 3000 Tone Generator with Probe Kit
PRO 3000 Tone Generator with
Fluke PRO3000 Tone & Probe Kit
- 18 month warranty
- Requires one 9 volt battery in each product to operate (not included)
- "Works on virtually any cable or wire" 
- Cat 3/5/5e/6 etc.
-Coax
- De-energized Electrical Wire
-Security Wire
- Speaker Wire
- Tones up to 10 miles on most cable
- Fluke PRO3000 Tone and Probe Kit is THE professional kit you need for tracing and toning wire or cable. Use it on de-energized AC wire, telephone/twisted pair wire, all voice and data category rated cable, all coax cable, speaker wire, security wire, virtually and cable or wire! All in a durable nylon pouch with three pockets and extra large belt loop. 
- Loud speaker amplifies tone trhough walls, enclosure, wood or plaster
- Easy-to-use adjustable volume control dial
- "Quick-twist" tip for easy replacement
- FREE Spare Tip inside
- PRO3000 Tone Generator (Top Features)
- SmartTone technology can generate five seperate tones
- External switch lets you select solid or alternating tone options, indicated with solid or flashing LEDs
- Continuity testing
- Line polarity confirmation
- Line cord features Angled Bed-of-Nails clips and ruggedized RJ11 plug for direct access to phone and data jacks without adapters