Electrician's Knife with Plastic Handle & Sheath Hultafors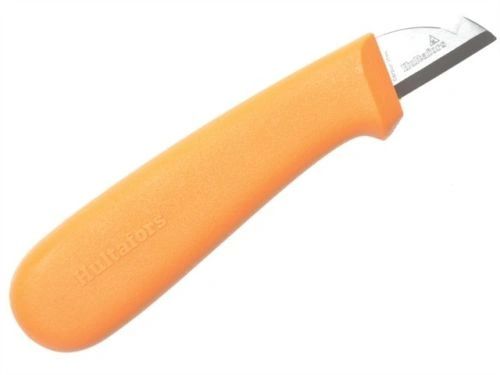 Electrician's Knife with Plastic Handle & Sheath Hultafors
BRAND OVERVIEW
Designed for tradesman, craftsmen and hobbyists Hultafors hand tools are manufactured to be durable, hardwearing and reliable. When you need precision and reliability Hultafors has it covered.
PRODUCT DESCRIPTION
The sharpening of the blade edges and the design of the handle have been optimised for cable stripping. It features a unique function for attaching the holster around a button on your work clothes so that it does not come loose whilst still being easy to remove. The blade is made from Japanese knife steel, 1.5 mm carbon steel that has been hardened to 5860 HRC.
A unique method for attaching the sheath around a button on work clothes means it does not loosen, but is easy to remove. The sheath fits just as well on a belt as on buttons. The handle and sheath are made from extra durable PP plastic.
FEATURES
The two edges have been sharpened to be particularly effective when stripping cables
Both the handle and holster are made from super-durable PP plastic
The holster can be attached to both a belt and a button on your work clothes. If your belt is thick, cut away the small pin on the cover
SPECIFICATION
Blade Length: 33mm
Total Length: 158mm